FINGER LIME Citrus australasica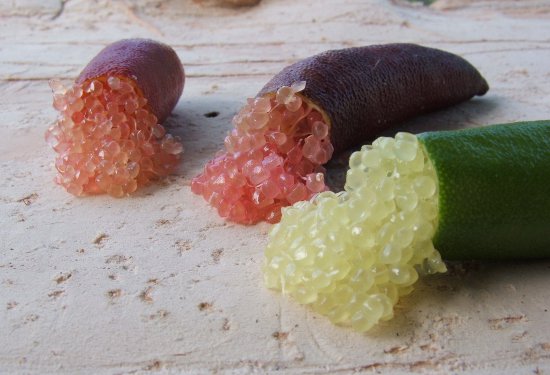 Description : Some grafted varieties form a compact shrub 1m to 3m in height while seed grow stock can be a bit untidy & reach 6m & all having quite prickly branches. The small narrow-oblong leaves are dark, glossy green with slightly scalloped margins. The small white to pinkish, three petaled, fragrant flowers are followed by the elongated fruits. These can vary considerably in shape, skin colour, & flesh colour. The skin can vary from yellow, green, burgundy to almost black & the flesh from pale green or pink through to red. These variations are 'sports' & all naturally occur in the wild, some within metres of each other. Seed grown plants are very slow to mature & may not fruit true to type. Grafted specimens may be more expensive but they are true to type & will fruit within two years as opposed to 5 to 7 with seedlings.
Uses : Now quite familiar to most people the Finger Lime is usually used fresh. It goes well as an accompaniment to seafood dishes. The caviar-like juice vessels can be squeezed out over fresh oysters, fish etc or tossed through a salad. It also makes tangy lime conserves, cordials & syrups.